The Better Way to Connect
®
Welcome to The Interesting Conversations Company, a communication consulting, speaking, and corporate entertainment business that helps individuals and organizations improve communication skills and achieve their goals.
Our entertaining and funny keynotes, engaging networking events, and powerful personal and professional development programs help you succeed in today's competitive world. It's hard to stand out, and that's why we are here to help.
Simply put, we help make your life, business, and events more interesting than a cell phone!
A Welcome Message from Deedre Daniel:
Our Founder,
Deedre Daniel,
is a
Connection Chemist.
She uses a three-part formula designed to help you think more creatively, embrace humor, and build stronger bonds with others. Her products and services are created to help you break out of your behaviors and habits to attract more opportunities. Her goal is to make your life, business, and events more interesting than a cell phone!

Maybe you're stuck in a rut, longing for love, or looking to get ahead in your career. With her help, you can attract more of the right people, which means more promotions, proposals, and propositions for you.
Let's create that interesting life, business, or event you want and deserve together.
Hire The Interesting Conversations Company for your next meeting, conference, networking event, team building, board retreat, or sales training class.
Discover How to Stand Out and Live an Interesting Life!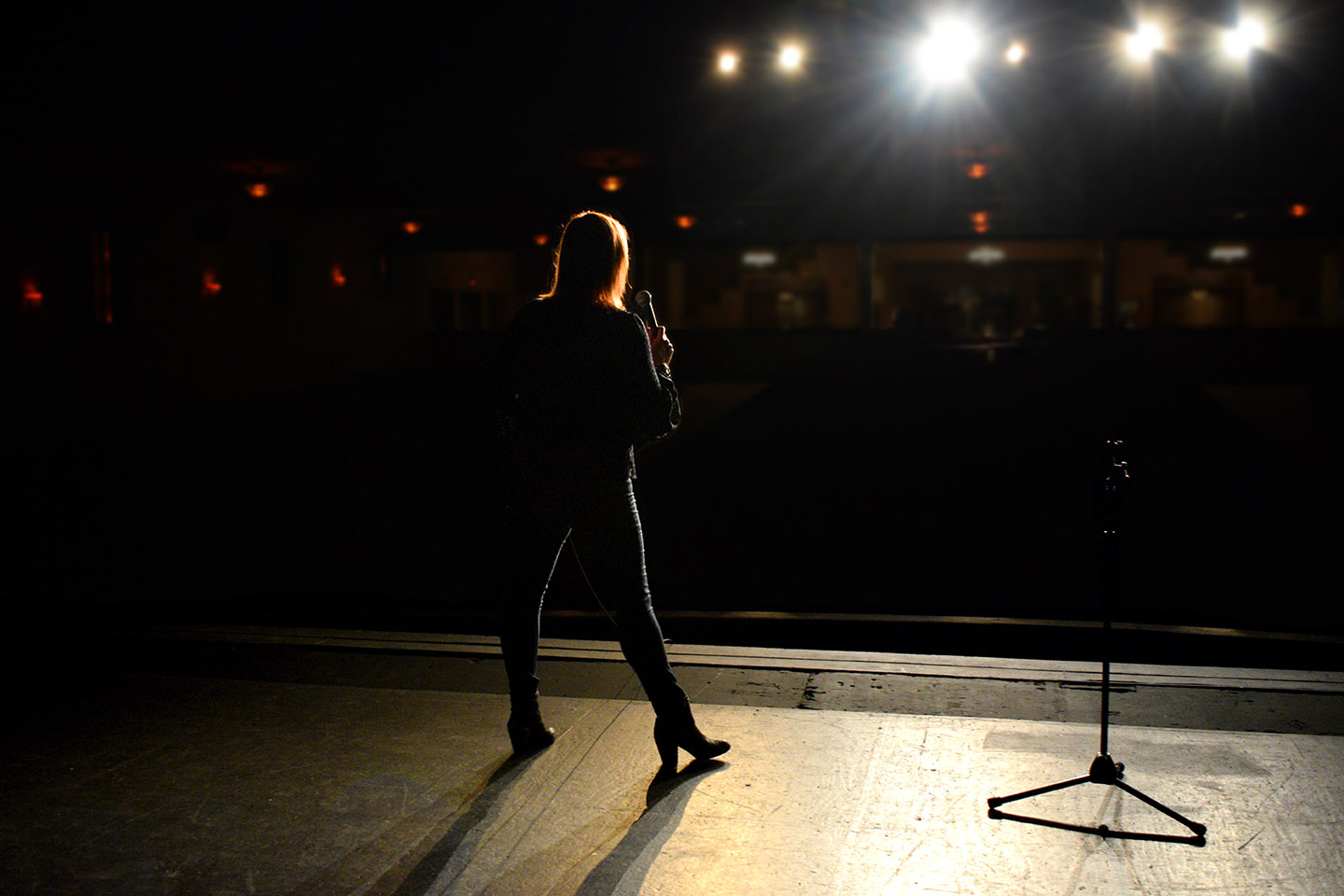 Deedre Daniel
Comedic Keynote Speaker, Trainer, and Game Inventor
Photo by Kerri Percy Photography
Networking Events After COVID-19
"The aftermath of COVID for many people includes social awkwardness and almost a fear of crowds. Plus, we had hired a bunch of new staff, and meeting new people under these circumstances can also be awkward. We had our first Symposium since COVID and needed something to get people talking and just more comfortable with each other again. That something was provided by Deedre Daniel. She and her invention, The Interesting Conversations Game, provided humor and the opportunity to have lively group conversations at their tables. She soon had my hesitant crowd RUNNING to get a spot in the line to share their groups' answers to the game questions. I have never seen that level of participation in a general session! Thanks, Deedre, for a great presentation!
I highly recommend Deedre and her Interesting Conversations Game to kick off your event. Bottom line– I can't imagine a group that wouldn't respond to Deedre's inviting personality and fun, engaging presentation."
Butch Chapin, MPA
Training Manager at State of Washington, L&I, DOSH
Conferences
"Deedre immediately came to mind as a perfect speaker for our conference. Her session on how to introduce yourself and making connections really resonated with the attendees. She gave them real tips and ideas that they could use to grow professionally. Our members loved her and in our post-conference survey, she received solid positive reviews for her style and presentation skills.
Thank you, Deedre, for making me laugh and creating a connection that truly makes me smile whenever I see your name."
Dominique Stumpf CMP, CAE
Chief Executive Officer
National Pest Management Association
You Will Forget You are on a Video Conference
"We were looking for a way to engage our organization stakeholders in an interesting way to allow them an opportunity to connect outside of just holding a "zoom" meeting. Using The Interesting Conversations Company, we had a chance to laugh and engage with each other in a comfortable setting – so much so we forgot we were on a ZOOM meeting. Plus, it saved our own team time, having to lead or create an engaging way to connect since we left everything to the Interesting Conversations Company."
Steven Stout, FSAE, CAE
Executive Director
Texas Society of Association Executives
THRILLED SPONSORS & HAPPY ATTENDEES!
"Deedre understands people, groups, and events. She is a genius at delivering high-value and customized experiences for both sponsors and attendees. She has a masterful sense of both the corporate and association mindsets. I have participated in her Very Interesting Game several times and have worked with her to develop and deliver multi-faceted programs for clients' virtual events. I am blown away by her talent at customizing and delivering anything from keynotes to structured happy hour progressive competitions. Attendees (game participants and the audience) are drawn in, and everyone has a great time!
Deedre adeptly integrates value to ensure that an organization monetizes its program. Sponsors' branding and subject matter are woven into the visuals and the game questions, too. She is as organized as any great meeting planner, handles all related deliverables, and is a wiz at the technical elements – such as pre-recordings, live streams, chats, and engineering using the platform. She brings it all together seamlessly. When it's "showtime," Deedre is a delightfully smooth, charming, and provocative host who ensures a memorable experience for all!"
Patrick Wilson
President
Profitable Association, Inc.
Speaking Engagements
"I have worked with thousands of speakers, so I am confident in saying that Deedre Daniel is one of the best! She is the consummate entertainer – full of both wit and wisdom. What separates Deedre from others is her ability to connect with audiences in a raw, honest, authentic way, which shoves all vulnerability aside and makes space for actual real human connections. Having been one of the top-rated speakers at ASAE conferences, programs, and events over the years, Deedre has proven that any audience will simultaneously be moved, inspired, and amused by her style."
Megan Denhardt, CAE
President
The Denhardt Group
Corporate Training
"I've had the pleasure of watching Deedre Daniel on the big (and little) stage. So I recently asked her to train my team of 20 sales representatives on how to network. The class, "How to be More Interesting Than a Cell Phone" provided participants with tangible tactics to help build strong connections and lasting impressions. She was dynamic, engaging, funny, and informative. The next day we hosted an event in DC with more than 50 partners and prospects. I was so impressed with the team casually and confidently joining conversations, especially some of our most self-proclaimed introverts. Deedre just had a way of bringing the best out of the team."
Mickey Herbert
President & COO
Meridian One, a Gallagher Company
Bond with Customers and Employees - Remotely!
"Speedeon Data hosted several sessions with our team and they loved it. The Interesting Conversation Company is an ideal way to remove the distance being created by COVID with the remote working environment. We've also used this game with customers with the same very positive impact. Deedre, you're amazing!"
Gerard Daher
Chief Executive Officer
Speedeon Data LLC
Innovative Sponsorships!
"Highly recommend! The game is extremely engaging and Deedre is an expert at bringing people together, making them think, enhancing communication skills, and creating next-level connections. We purchased several of the games and had them branded with our company name and colors. Our clients love them! We are now working with our partners and Deedre to create a new fun sponsorship opportunity at upcoming virtual association events. Can't wait to invite our existing clients and prospects to join us!"
Lucas McCann
President/CEO
Advancea
Executive Women's Retreat
"I recently played this game at an executive women's retreat and it was an absolute blast. This is by far one of the most creative group games I've ever played. It really gets people thinking – the more bizarre the better. I'm giggling just thinking about some answers. What a fun bonding time! Get it, play it and you won't regret it."
Teri Carden
Founder
ReviewMyAMS
Holiday Parties (In-Person & Virtual)
"Deedre brought The Very Interesting Game to our team's virtual holiday party and it was outstanding! She hosts a fun, engaging, witty, and thought-provoking program that brought our team closer together from across the miles! One team member commented how much fun he had getting to know his colleagues' personalities a little bit better. Another team member commented how much he learned about everyone and in such a fun way – feeling closer to colleagues. Deedre's program is both highly entertaining and a great way to bring a staff together for collaboration, team-building and support. I highly recommend her as a great host who customizes her programs to meet your goals – whether it's a team retreat, meeting, or special event. Her game is one we definitely look forward to playing again soon!"
   Lawrence M. Paska, Ph.D., CAE,
Executive Director
National Council for the Social Studies
Sessions for Teens
"Pace Center for Girls of Polk County had the pleasure of having Deedre Daniel, founder and principal of The a Interesting Conversations Company, speak to a small group of our girls. Throughout the presentation, Deedre was very engaging, creative, and hilarious! During the break out session, the girls that participated had the opportunity to practice what they learned by 'spiking' conversations for future networking opportunities. Overall, the girls loved their session with Deedre and cannot wait to have her come back and/or watch her on a Ted Talk!"
Julie Roggeman
Special Projects Associate
PACE Center for Girls
Multiple Uses!
"I had the opportunity to play the prototype version of this game. After playing with a group of friends, I knew I had to buy it when it came out. I've since played the card game with friends, family, and colleagues… and I've used the cards in our organization's 'Get to Know Your Co-worker' activity we started since working from home due to COVID. I've also had the pleasure of playing the virtual version of the game via Zoom… several times! I can't get enough! Ha! It's fun, INTERESTING, and I can guarantee you it's not like any other game you have played! It will have you thinking for days… and working on your 'how to be more interesting' skills."
Anne Nevel, CAE
Vice President, Industry Education
Healthcare Distribution Alliance
Team Building
"Our team thought it was interesting, fun, a great way to get to know each other. Deedre's session helped us gain insight about ourselves and our own habits that might send a conversation to the emergency room! It is very useful for people with all levels of experience, from young professionals to those late in their career. Deedre's session is really valuable for teams to do together because it allows you to learn things about everyone else, and also about yourself, which you can apply when managing staff or working with colleagues. The section on the different types of people and how they can shut off conversations was super helpful, and helped me understand how I can engage and facilitate more interesting conversations!"
Katherine Raphaelson, President
Society for International Development
Washington, D.C.
Awards Banquet Entertainment
"Deedre and The Very Interesting Game created such a memorable time at our very different year-end awards event. Networking is such an important value of Associations but ZOOM Fatigue started setting in over the summer. We had hoped we would get to do something outside in person, so when we had to go virtual, a little bit of panic set in. Deedre came to our rescue by giving us unique entertainment that sparked interest and we had double the numbers we had planned on hosting. The feedback was overwhelmingly so positive because the event lived up to our hype. It was awesome to end this year with so many smiles from our members!"
   Stephen Sheppard, CAE
Executive Vice President
BOMA, Denver